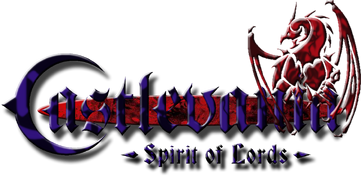 Castlevania: Spirit of Lords
There are 2 player Soma & Alucard
It is a Co-op game of Alucard and Soma, we are giving our own story to this game
In this game we are giving u to play with Alucard in a new way as he can now perform Heavy weapons like clubs,sword,etc,Whips, Katana and all types of soul like Bullet, Guardian, Enchant and ability.
For Game Demo :
☀http://www.mediafire.com/download/9zdcq3xldujdp7d/Castlevania+Spirit+of+Lords+Demo.exe
Read me for Controls :
http://www.mediafire.com/view/pwxugvwskqaanvu/READ_ME_FOR_CONTROLS_!!!!.txt
For more information u can go on this page
https://www.facebook.com/pages/Castlevania-Spirit-of-Lords/683667611744582
Ad blocker interference detected!
Wikia is a free-to-use site that makes money from advertising. We have a modified experience for viewers using ad blockers

Wikia is not accessible if you've made further modifications. Remove the custom ad blocker rule(s) and the page will load as expected.