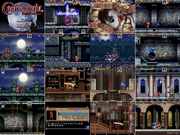 A hack that replaces Richter's sprites in Portrait of Ruin. There are three versions of this hack:
All hacks include the following changes:
Changed whip graphics.
Changed Richter's Cross and Holy Water graphics.
Modified title screen.
Modified Lilith and Succubus' sprites and palettes.
Modified Mud Man's palette.
Fixed blood color.
Fixed status effect palettes.
Fixed "CHAROTTE" typo.
Renamed some enemies.
This hack is only compatible with the US version of Portrait of Ruin.
External Links
Edit
Ad blocker interference detected!
Wikia is a free-to-use site that makes money from advertising. We have a modified experience for viewers using ad blockers

Wikia is not accessible if you've made further modifications. Remove the custom ad blocker rule(s) and the page will load as expected.